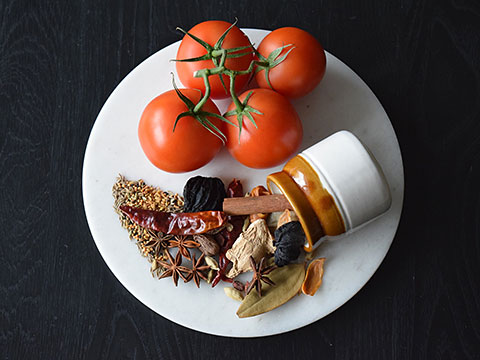 Sree's cuisine originates in the ancient southern Indian city of Hyderabad. Hyderabadi food draws on two separate traditions, the rich court cooking usually associated with the Moghul north and the traditional cooking of the vegetarian south.
Hyderabadis believe their cuisine combines the best of both worlds: northern ingredients and spices--cinnamon, cardamom, cloves and garlic--combined with a seemingly endless list of southern flavorings--curry leaves, red chilis, mustard seed, cassia buds, peanuts, coconut, tamarind leaves, jaai kaya, jani, and pathri.
Sree's food is however more than a cuisine, it is a philosophy. The food reflects the principles of Ayurveda, which means "Science of Life".
Srees is Vegan Friendly!!
All of Sree's vegetarian dishes are made with 100% vegetable oil and contain no dairy or other animal products. The samosas are sealed with water, not eggs, and the bread is also vegan.